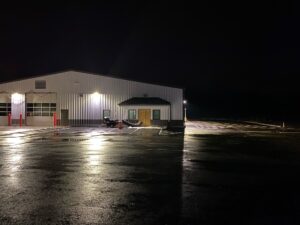 December 2022 - Updates on Northfield Center Safety and Administration Bldg
- a new reinforced, paved parking area and driveway have been installed at the new building in addition to guardrails along the Brandywine Creek section
Current budget on this project is $3,419,478.
Current Project: The Board of Trustees approved a $2,978,714 contract with Infinity Construction in May 2021 for a design-build facility - fire station, police outpost and Town Hall - administrative offices & multi-purpose room.  The building is scheduled to be completed in late January 2023 and will be open to the public in Spring 2023.
Our existing fire station property on Route 82 is currently for sale along with one other parcel owned on Rt 82.  The parcel west of the existing fire station property on Rt. 82 has been sold. The township is looking to liquidate unused properties and will consolidate into one campus at 84884 Olde Rt. 8 - with the entrance on Olde Rt. 8 near Highland Road.